Become a Distributor
JMPP is the only manufacturer of the patented High Torque© Retention Knob
While other retention knob manufacturers may recognize the problems associated with retention knobs and V-Flange tooling design, we are the only manufacturer to actually spend the time and money to isolate the problem and find the solution to toolholder expansion. When your customers ask for High Torque, sell them the real McCoy, not an ineffective imitation. The difference is in the patented design, not the name.
Better finishes and processes mean the best performing knobs on the market
Shot-peened to relieve stress, deburred for superior finish and fit, radiused corners for added strength, and precision hard-turned after heat treating to ensure concentricity, all JMPP retention knobs exceed the finishes required by the International Standards. Our precision manufacturing processes improve the durability and extend the life of the knobs, while reducing the likelihood of cracking or mechanical failure under stress, making our retention knobs the best performing knobs on the market. Guaranteed.
JMPP maintains high-standard inspection records
Written inspection records are kept on every work order/lot number we manufacture.
Private Labels and No Extra Charges
Because we recognize the value of customer loyalty and value our distributors, we provide private labeling on all of our manufactured products. Private labeling helps ensure repeat business. There is no minimum order requirement or extra charge for custom labels. Extra labels with pressure-sensitive backing are supplied upon request for use at the machine for retention knob identification.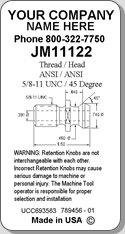 Private labels include:
Distributor's Name
Logo (.bmp or .jpg)
Distributor's telephone number
Part number
Short description of retention knob
Warning statement
Order Traceability code
To help you meet your customers' requirements, there is never a drop ship fee.
---
Distributors Wanted!
Complete this small form and someone from our Sales Team will contact you shortly: